Fresh Meat
You should insist on only the best from meat, poultry and seafood departments. These demands cannot always be met by boxed beef and frozen fish. Our fresh meat products will satisfy even the most discriminating tastes and our in-store butchers are always there to provide insight unavailable anywhere else.
---
Dick's Market is proud to now offer Certified Angus Beef
Angus is everywhere these days. Over the last couple of decades it's even become a bit of a buzzword. It's true. Angus beef is good. But Certified Angus Beef® is on an entirely different level. Certified Angus Beef has been the leader in premium beef since 1978 and it known for its great quality, marbling and tenderness. This beef is sourced from Angus cattle raised on family-owned ranches across the Intermountain West. At Dick's Market we are committed to providing the best quality products to our shoppers and with Certified Angus Beef we're doing just that.
To learn more about Certified Angus Beef, visit their website at www.certifiedangusbeef.com.
---
Fog River Seafood
Dick's Market is proud to offer Fog River Seafood to you, our Guests!
Fog River began in 1981 with one commercial Salmon boat fishing out of Kenai, Alaska sending a small hand-picked percentage of each day's catch overnight to Salt Lake City. In the 30 years since, our team of culinary and seafood professionals have been providing an ever expanding range of seafood products to an increasingly discriminating and knowledgeable end user. At every step we have tried to replicate that Alaska experience - sourcing fish we know something about: who fished it, where was it caught; how it was caught; and most importantly, when it was caught. We know the story behind the fish. Besides the great story behind our seafood, we also know that you deserve delicious!
Click here to get more information about Fog River Seafood.
---
Frozen-at-Sea Wild Salmon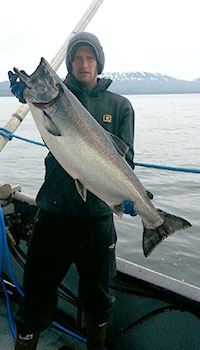 At our store, fresh-tasting, peak-season fish can now be enjoyed all year long. We're proud to introduce Frozen-at-Sea Salmon (FAS). Frozen-at-Sea Wild Salmon offers better quality and fresher tasting fish no matter the season.
During prime fishing time, king and coho salmon are frozen-at-sea, right on the boat, which allows year-round availability of delicious fish. It may sound unusual, but these fish are actually "fresher than fresh". The technique has been perfected over the last decade. The key is immediate, rapid freezing at an extremely low temperature (minus 40° F) on the fishing boat.
Next, the fully frozen fish are dipped several times in freshwater. This gives them a thin coating of ice which seals in moisture and prevents dehydration. Studies show FAS salmon can be maintained at minus 20° for up to 9 months, if necessary with no loss in quality. An important requirement of proper handling of FAS salmon is slow defrosting at 32° to 35° F. Proper defrosting requires 24 to 36 hours (depending on the size of the fish). The result is a fish that is essentially as fresh and delicious as the day it was caught.
---
---
FAS Salmon Questions and Answers
Q: Are all Salmon in Alaska Wild?
A: YES, All the salmon found in Alaskan waters are wild! In fact it is illegal to farm salmon in Alaska. The term wild salmon means that the fish are free range and can complete their natural life cycle without being penned and fed artificial foods.
Q: Is fresh frozen Wild Salmon as good as fresh?
A: YES! if done right, in most cases it's better. The Alaska seafood industry has perfected advanced quick-freezing technology (FAS) Frozen At Sea , which is unique in its ability to capture the fresh-caught flavor of the Alaska salmon while preserving the fish's firm texture and rich color. Fresher-frozen natural Wild Alaska Salmon is available year-round in portion-controlled sizes in a variety of product forms. Fresher-frozen products minimize shrink and keep margins high for restaurants. Frozen products that have been in a frozen state since they were first processed (FAS) and stored properly will keep their quality until they are thawed. Wild Alaska Salmon, if handled properly, can result in a culinary experience without equal. The main concern with Salmon quality is temperature abuse. Salmon must be kept refrigerated from the time it is caught to the time it is prepared for cooking or the result is usually soft and smelly fish. Three ways to tell quality Salmon: smell it, touch it and look at it. If it smells fishy then it's probably not fresh. When you touch it, if your finger print remains imprinted on the skin then it's not fresh. Look at the eyes of the fish and if they are milky in color then it's not fresh. The skin shouldn't' look dry or discolored in anyway. With this in mind, shopping for Wild Alaskan Salmon can be a rewarding culinary experience.
Q: What is the shelf life of Wild Salmon once it is thawed-out?
A: If Salmon is kept refrigerated at 38 F or less you still have 5-7 days to consume it. You begin to loose quality from the time the product is thawed, so cook it or refreeze it as soon as you can.
Q: What is the best wild salmon to eat?
A: While the five species of Pacific salmon all share a general outward resemblance, they vary in size, flesh color, and flavor. All species of wild salmon are wonderful to eat.
Chinook (King) Salmon are lightly spotted on blue-green backs. They live from five to seven years, and can weigh up to 120 lbs. Also known as Springs or Kings, they are the most prized game salmon for sport fishers. Chinook is the largest species of Salmon, with richly flavored, flaky flesh ranging from ivory white to deep red in color. Chinook Salmon has the high oil content due to its size and the length of time it spends fighting the ocean currents. The Chinook flesh takes a rub or marinade well.
Sockeye Salmon has a blue-tinged silver color skin. Sockeye salmon live four to five years, weigh up to 15 lbs and are the slimmest and most streamlined of the five species of Pacific salmon. Also known as Red Salmon, Sockeye are a popular salmon species for its stronger 'wild' flavor and uniquely beautiful, deep red color to its flesh. Great with other strong flavors like wild mushrooms.
Coho Salmon are bright silver in color. Often referred to as a Silver Salmon, they live three years, weigh up to 20 lbs., and are a popular game fish for sport fishers. The Coho's versatile full flavor is coupled with fine-textured, consistently red flesh. The firm Coho flesh is great on the grill.
Keta, also known as Chum or Dog salmon for their hooked upper lip, have black specks over their silvery sides and faint grid-like bars. They live three to five years, and weigh up to 20 lbs. Keta salmon offer a milder, more delicate flavor with a creamy pink to medium red flesh color. Keta are a soft meat and are often used in seafood chowders.
Pink Salmon are the smallest of the five Pacific Salmon species, living only two years. They have heavily spotted backs over silver bodies and weigh up to 5 lbs. Pink salmon are the most plentiful of the five species. Pinks have a delicate flavor and light flesh color and are most often commercially canned or used in pet foods.
Q: How much of the omega-3s are in the fatty gray meat beneath the salmon skin?
A: As much as two-thirds of the omega-3s in fish reside in the gray fatty layer beneath the skin. However it is interesting to note that tests conducted by the USDA Nutrient Data Laboratory indicate that the flesh of wild sockeye salmon (for example) contains more than 1.2 grams of EPA and DHA per 3.5 oz (98 g) serving. This exceeds the 650 to 1000 mg recommended daily intake of omega-3s by more than 20%. So whether the gray fat is consumed or not, one is assured of getting a significant 'dosage' of EPA, DHA (and many other essential fatty acids) with each serving of salmon.
Q: What's the easiest way to cook wild salmon?
A: The wonderful thing about wild Alaska salmon is the ease with which it can be prepared. When you have good quality salmon you don't need a lot of fancy sauces and marinades to make up for marginal taste. Here are some very simple cooking ideas:
Into a bowl pour a small amount of olive oil (the amount depends upon number of portions--basically enough to coat what you're preparing). Add some seasoning to taste for example lemon pepper, garlic, dill, fennel or whatever other spices you like. Add a dash of soy sauce and a pinch of brown sugar or a few drops of maple syrup. All ingredients beyond the olive oil are optional. The oil will prevent sticking and help lock in moistness.
Mix your ingredients and brush over the pieces of salmon. You can then bake, grill, fry, or microwave it -- whatever you consider the easiest--and they're all pretty easy. When you think about it, it's not all that different than cooking a steak!
The most important thing is to not overcook your Salmon. The small portions will cook quickly. Salmon is a relatively lean fish and (like any meat) will become dry and tough if over-cooked. Pay close attention the first time you try a particular cooking method and note the time and temperature it takes to get it "just right." Once you figure this out, cooking your salmon will be a breeze.

Beginning with the simplest method, here are some cooking suggestions:
Microwave: The microwave is a quick and easy way to prepare salmon. Brush a thawed, 6 oz. portion with olive oil, sprinkle with spices, place in microwave on low power or "defrost" setting for around 9 minutes. Microwave ovens vary so you may need to adjust the time one way or the other. More than a couple pieces will take longer--adjust as necessary. Monitor the salmon closely the first time you try this method to insure optimum cooking time. Remove and serve.
Pan Fry: Same prep but place in pan with a small amount of olive oil over med-high heat for 3-4 minutes and cover. Turn salmon over, cover and cook 2-3 more minutes or until done.
Broil: Same prep, place salmon under broiler for 4-5 minutes. Turn if desired (may be unnecessary) Cook until done.
Grill: Same prep, place salmon on barbecue grill, cover, check after 4-5 minutes, watch closely, remove and serve (This is many people's favorite. Be sure everyone is ready to eat when you begin cooking the salmon as it cooks quickly and is always best served straight from the grill.)

Cooking wild salmon couldn't be much easier. Once you get the basic cooking method down you may want to branch out and experiment with other great recipes. Check out our Wild Alaskan Salmon Recipes on this page for some great cooking recipes

Show more Questions and Answers
Other Departments